A Fresh Start for America's Workforce
The government often denies people a license to work in a particular job because of their criminal convictions—even if the conviction is very old or has nothing to do with the job. As a result, thousands of Americans are not legally allowed to work in the job of their choice—even if they have an employer who wants to hire them. These laws aren't good policy. Many of them aren't even constitutional.
The Institute for Justice wants to help people work in their chosen occupation. If the government has denied you a license to work because of your criminal history, please tell us about your situation HERE. We may be able to help you.
You can read about our work in this area below.
People Deserve a Fresh Start
People with criminal convictions who have paid their debt to society deserve a fresh start. Unfortunately, there are many barriers that keep people with convictions from earning an honest living and contributing to their community. Especially now, when one in three adults has a criminal record, reform is more important than ever. Astoundingly, there are over 15,000 laws that limit what jobs people with criminal records can have.
The Institute for Justice is working to bring about change. We do this through lawsuits, legislative change, and original research.
Lawsuits
People have a constitutional right to earn an honest living. As a result, the government cannot ban people from working in a particular job without good reason. Yet lots of laws do so. Many laws ban people from working in a particular occupation because of criminal convictions that have nothing to do with that occupation. We ask courts to declare these laws unconstitutional.
Pennsylvania, for example, required would-be cosmetologists to prove they had "good moral character" before they could get a license to cut hair, paint nails, or do facials. In practice, this meant that Pennsylvania denied dozens of people with criminal records a license, even if these people had completely reformed their lives since their last conviction. The government is a poor judge of whether people are "good." In fact, the chair of the cosmetology board even admitted that the standard could be different for people based on the examiner's race or religion. The court agreed with IJ and declared the law unconstitutional.
We have a similar lawsuit pending in California on behalf of people who want to become full-time firefighters, and in Virginia on behalf of people who want to be substance-abuse counselors. In both states, unconstitutional laws are getting in the way of ordinary people who want to pursue their dreams and serve others.
Legislation
We have also drafted model legislation for states to adopt, which inspired reforms enacted in Arizona, Idaho, Indiana, Iowa, Michigan, Missouri, Nebraska, New Hampshire, North Carolina, Ohio, Utah, and Washington, D.C.
Research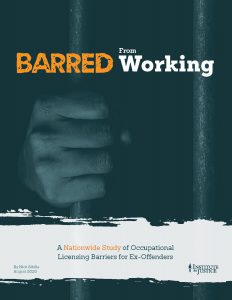 A recent report from the Institute for Justice, Barred from Working, found that multiple states lack even the most basic protections for people with criminal records:
In six states, licensing boards can generally disqualify applicants based on any felony, even if the felony is completely unrelated to the license sought.
In 15 states, boards are free to deny licenses without ever considering whether an applicant has been rehabilitated.
In 28 states, boards can arbitrarily deny licenses based on an applicant's perceived "good moral character," an incredibly vague term that gives boards nearly unlimited discretion.
Applicants in 31 states can be denied licenses based on an arrest that did not lead to a criminal conviction. In other words, boards can refuse to issue a license even though the applicant is functionally innocent.
Meanwhile, states that eliminated permanent punishments in their occupational licensing laws have given thousands of people a fresh start:
In Illinois and North Carolina, the two states with the most comprehensive data, more than 8,500 people with criminal records were granted licenses after both states enacted extensive reforms.
Realtors, nurses, accountants, barbers, and security guards were the most popular occupations in those states.
Has the government denied you a license to work because of your criminal record? Or are you worried your license will be denied? Please reach out to us! We may be able to help.