In Bullhead City, Arizona, your kindness might cost you your freedom. It nearly did for Norma Thornton, a 78-year-old grandmother who was arrested and criminally charged for feeding those in need in Bullhead City. Under a new ordinance, the city has deemed it a criminal misdemeanor—punishable by fines and even imprisonment—to share prepared food in a public park "for charitable purposes." As the city attorney clarified, people may freely share food in public parks at "social events, which would include a party." But be sure your "party" doesn't include any homeless people, or you might go to jail.
That's the city's lesson for Norma Thornton. Norma operated a restaurant before retiring to Bullhead City in 2017. Bullhead City is a city of 40,000, neighboring the Colorado River on Arizona's western border. In Bullhead City Community Park, Norma encountered people in need—that is, people who could barely afford housing nearby, as well as people experiencing homelessness. Though no one spends nights at the park (retreating to federal land nearby), some come together in the day in the public park, where they can take advantage of shade, benches, and restrooms. She learned that the nearest shelters and food pantries are miles away, and their resources and availability are limited, leaving dozens hungry each night. So Norma decided to use her career skills to share nutritious, hot, homecooked meals with people in the park. For more than four years, Norma would regularly bring her food to the picnic tables there, sharing with anyone who asked.
That all changed on March 8, 2022. Just as she was performing her usual cleanup of the area, Norma was arrested and criminally charged with violating the city's ordinance. Norma refused to plead guilty as she felt she'd done nothing wrong; months later (after hearings in criminal court), the city dropped the charge—but only while clarifying that if Norma does it again, the city would throw her in jail. Now, Norma shares her food in a private alley—without shade in the scorching heat, without tables or a seating area, without a place for people to wash their hands, and out of sight of people who could use her help.
Homelessness is, of course, a complicated and serious problem. But criminalizing acts of charity isn't the solution. What's more, it's unconstitutional. That's why on October 25, 2022, Norma joined with the Institute for Justice (IJ) in filing a new federal lawsuit against Bullhead City. The lawsuit asks the court to strike down the city's ordinance and allow Norma, and people like her, to share food in the park.
Case Team
Clients
Attorneys
Managing Attorney of the Arizona Office
Staff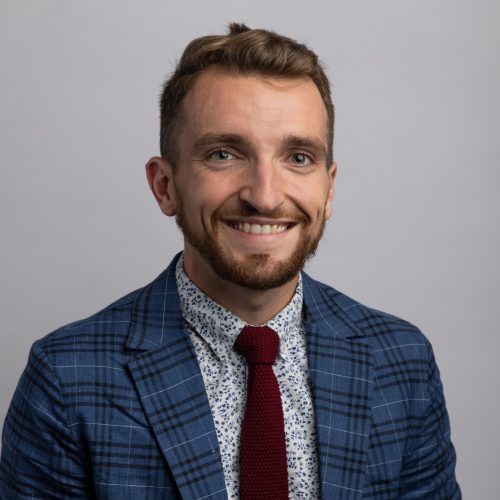 Communications Project Manager
Media Resources
Get in touch with the media contact and take a look at the image resources for the case.
Dan King
Communications Project Manager
[email protected]
Bullhead City's Food-Sharing Restrictions 
Bullhead City makes it a Class 2 misdemeanor for anyone to "sponsor, promote or engage in a food sharing event at a public park." 1 A "food sharing event" is "a non-social gathering that is planned, organized, promoted or advertised by a private group or organization at a public park where prepared food requiring distribution in a timely manner or temperature control for safe consumption is served or distributed for charitable purposes at no cost, or for a nominal charge, to any member of the public." 2 That means people can share pizza or birthday cake with their friends but cannot share the exact same food with those in need. In practice, Bullhead City police officers look for someone giving food to someone who looks poor (in fact, officers have even prevented homeless people from sharing food with each other).
Although the city may grant someone a permit to host a "food sharing event" at the park, the permit conditions are extremely burdensome. Among other things, applicants must provide $1,000,000 in liability insurance, pay a permit fee and deposit, and request a permit 5–60 days before the desired time. 3 The permit is for a single "event," capped at two hours, and people may not receive more than one permit within a thirty-day timespan. On top of that, no two permittees may use the same location within thirty days of each other—meaning that, at maximum, the city might allow the charitable sharing of food in one park for two hours, once a month.
The ordinance itself purports to address litter and food-safety concerns, yet that makes no sense. Littering is already banned, 4 and people are still allowed to eat (even donated) food in public parks. Furthermore, pre-packaged food is allowed in the park, even though such foods produce more litter than the type of food Norma serves. There has been no report of anyone falling ill from food shared in a public park. And people may still share food freely, so long as their motivations are other than charitable. Indeed, when the City Council met to discuss passing the ordinance, no one raised these concerns—instead, they presented and acknowledged the proposal as designed specifically to discourage homeless people from spending time in the park.
Limited Options for People in Need
When officers arrested Norma, they told her that the ordinance is supposed to encourage homeless people to visit a new shelter. Although the shelters do good work, they are inadequate in addressing the needs of Bullhead City's poorest. The newest and largest shelter has 46 beds—each of which are typically full. Only people staying in one of the shelter's beds get breakfast and dinner. Lunch is available to walk-ins, but its location miles away from where homeless people are during the day makes it difficult or impossible for people in need to reach. Food pantries and other shelters are similarly lacking in availability and accessibility. And at any rate, many of the people Norma has served are not homeless but survive on very low incomes, and they are not served by the shelters.
No one lives at Bullhead City Community Park—there are no tents. People without houses sleep in the desert, out of sight, on nearby federal land. Moreover, Norma feeds not just the homeless, but also people who are housed but still face poverty and hunger. Norma was able to reach both groups of people at the park, while utilizing the park's tables, shade and washrooms. Now, in the alley, Norma is less visible and serves fewer people, and, without shade, the Arizona heat forces her to reduce the amount of time she can spend there.
Here is a photograph of the park where Norma used to share her food:
Here is one of the alley where she now shares her food:
The Plaintiff
Norma grew up in poverty. Seven decades later, she still vividly remembers nights when her family went hungry. Her family survived on the generosity of others, and Norma still considers it her responsibility to help anyone she encounters in need.
Before retiring to Arizona, Norma owned and operated a motel/restaurant in Alaska for more than a decade. There, she cooked for large groups of people daily. Since 2018, several days a week she drives to the food bank to gather raw ingredients, supplements them with her own, then spends the afternoon cooking nutritious meals in her home kitchen to share with the needy. After that, she heads to the park where she shares the meal with those who show up, while offering other help such as helping with laundry and other needs. Norma builds relationships with the people she serves, and creates a sense of community.
The Defendant
The Defendant is the City of Bullhead City, Arizona, located in Mohave County.
The Lawsuit
Norma is seeking to invalidate the city's ordinance criminalizing the charitable sharing of prepared food in public parks. She challenges the ban as a violation of her rights to due process, privileges and immunities of citizenship, and equal protection secured by the Fourteenth Amendment to the United States Constitution.
The Due Process Clause provides that no state shall "deprive any person of life, liberty, or property, without due process of law[.]" That gives special protection to fundamental rights and liberties that are deeply rooted in our nation's history and traditions or are implicit in the concept of ordered liberty. Among those rights is the right to engage in charitable acts—to give aid to a person one encounters in need. Since its founding, this country has depended on people being able to support their communities through voluntary acts of assistance. By preventing Norma from sharing her food with needy members of the public in the public park, the city is violating that right.
For similar reasons, the city's ordinance violates Norma's "privileges or immunities" as a "citizen[] of the United States." Unfortunately, the Supreme Court wrote nearly all of the Privileges or Immunities Clause out of existence five years after it was enacted. 5 As part of IJ's long-term goal 6 to overturn the decision and reinvigorate the clause, we are challenging the city's ordinance as violating the Privileges or Immunities Clause, in the hopes that the United States Supreme Court will revisit this clause.
The Equal Protection Clause prohibits governments from "deny[ing] to any person within its jurisdiction the equal protection of the laws." That clause means that similarly situated people must be treated similarly, and laws may not distinguish between people arbitrarily, irrationally or illegitimately. Bullhead City's ordinance employs a classification that fails on all three counts—by making criminals out of people sharing food in parks "for charitable purposes," while allowing others to share the exact same food freely. Although addressing homelessness is a worthy public goal, singling out charitably motivated acts for punishment is neither sensible nor acceptable. And it isn't constitutional.
Norma asks the court to (1) declare that Bullhead City's ordinance criminalizing the charitable sharing of food in public parks is unconstitutional and (2) enjoin the city from enforcing it against Norma or anyone else. She merely wants to be able to continue serving food to those in need where they are.
The Litigation Team
The litigation team consists of Institute for Justice Attorneys Diana Simpson and Suranjan Sen, and Institute for Justice Managing Attorney Paul Avelar, who is serving as local counsel.
About the Institute for Justice
The Institute for Justice is the national law firm for liberty, defending the rights of Americans all over the country, including those who wish to provide private solutions to public problems like homelessness and poverty. The Institute has represented home-based chefs and free food pantries, as well as homeless shelters facing irrational requirements. The Institute has also represented a variety of people looking to exercise their Fourteenth Amendment rights, including African hair braiders, casket-making Catholic monks, rideshare drivers and others in state and federal lawsuits nationwide. For more on the Institute for Justice and its work, visit www.ij.org.