WJBE is Knoxville's only radio station focused on the Black community. James Brown, the Godfather of Soul, owned the original WJBE in the 1970s. The station changed hands over the years and eventually went off the air, leaving Knoxville without a Black-owned and -focused station. Joe Armstrong single-handedly brought WJBE back from the dead and has run it successfully for over a decade.
Now, the Federal Communications Commission (FCC) is threatening to shut it down. Not for anything WJBE did. Except for some late paperwork, the station hasn't done anything wrong. Rather, the FCC is threatening to revoke WJBE's broadcast license because Joe was convicted of making a false statement—on his 2008 personal tax return, four years before he even bought the station.
The FCC's theory is that Joe's conviction might mean he's unwilling to comply with FCC rules. But Joe's been running WJBE for a decade. Except for those minor paperwork issues, Joe's record is spotless. And as far as his conviction goes, Joe served his sentence, paid every cent he owed, and then paid fines on top. Even back then, the judge called the conviction an aberration in an otherwise "exemplary life."
The U.S. Constitution protects Americans from this type of irrational government interference. Joe resurrected the station and runs it full time, unpaid, because he believes in it. The government can't just take it away without a good reason. What Joe did has nothing to do with broadcasting. Joe should be able to run a radio station today even if he made a single false statement on his taxes 13 years ago. This isn't just about Joe, or even WJBE. Across the country, tens of thousands of laws permanently punish people who have already paid their debts to society. Today, Joe, represented by the Institute for Justice, is letting the FCC know he won't go down without a fight. Because no law—at the FCC or anywhere else—should irrationally deny Americans a fresh start.
Case Team
Clients
Attorneys
Staff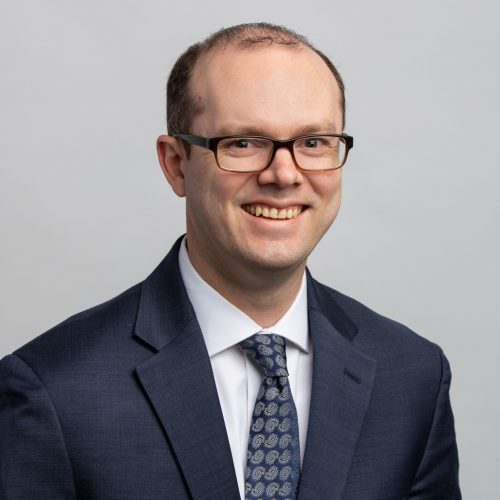 Director of Media Relations
Paralegal & Office Manager
Media Resources
Get in touch with the media contact and take a look at the image resources for the case.
Andrew Wimer
Director of Media Relations
[email protected]
WJBE: Knoxville's only radio station for the Black community
Jammin' 99.7 "plays nothing but the best hip hop and R&B," and it carries much more than the hits and popular syndicated hosts like Steve Harvey and D.L. Hughley. As the only station in Knoxville focused on Black issues and one of a handful of Black-owned stations in Tennessee, it is a fixture of the community. It offers local news and weather, a talk show about goings-on in Knoxville, broadcasts church services, up-and-coming artists, free advertising for struggling small businesses, and, in the last few years, information about the pandemic and vaccination. The WJBE callsign has a special history, too: legend James Brown owned the original WJBE in the 1970s.
Today, WJBE's office is a small but functional space in a strip mall, and its two broadcast towers, one for AM and one for FM, overlook the city from the nearby hills. It has a staff of three. There's the secretary. There's the manager (who wears a second hat as the newscaster; he's also the pastor of a nearby church). And there's the owner: Joe Armstrong, a lifelong Knoxvillian and retired state representative who runs the station full time without taking a salary.
Joe Armstrong: the owner of WJBE
Joe first worked at WJBE in the 1970s to pay his way through college. After changing hands over the years, the station eventually went silent. For a time, that left Knoxville with no station focused on the Black community. So, in 2012, Joe decided to buy a station, hoping to reinvigorate what had meant so much to him in college.
Joe also has a criminal record. Joe is best known for serving in the state House of Representatives from 1988 until 2016. In 2007, he and a partner bought cigarette tax stamps that they later sold for a profit after the legislature increased the cigarette tax. Joe wouldn't make the same choice today, but, at the time, it was legal and common behavior in the House.
Joe expected his accountant's investment company to pay the taxes on the gain, so he didn't declare the income on his own tax return. But the taxes weren't paid. As a result, Joe was charged with two counts of federal tax fraud. On those more serious charges he was acquitted. The jury found that he did not intend to defraud the IRS. But he was convicted of making a false statement on his return for not declaring the profit. (The accountant was convicted of tax fraud. The other investor wasn't charged.)
At sentencing, the judge noted that the conviction was an "aberration" in an otherwise "exemplary life." With dozens of references supporting Joe's character, the judge rejected the government's request for prison time. He sentenced Joe to probation, community service, payment of the taxes, and payment of a fine, all of which Joe completed. In 2017, Joe notified the FCC of his conviction.
After the conviction, Joe retired from the House. At the time, he was praised as, "a fierce advocate for ordinary Tennesseans," by the state Democratic Party chair, and a Republican colleague noted that, "This episode shouldn't overshadow the good work he's done for Knox County."
Joe has served his sentence, but the FCC threatens to punish him again
Now, Joe is being punished a second time. Even though it's been six years since the conviction and thirteen years since the underlying conduct, the FCC is threatening to revoke Joe's license and shut down WJBE for good. By law, the FCC must consider broadcast licensees' "character." And it says that Joe's conviction "raises the question . . . whether [Joe] possesses the requisite character qualifications to remain a licensee."
Here, Joe's character is proved by the decade he's been broadcasting. He has always followed the FCC rules (aside from missing the deadlines on some paperwork, which he self-reported). He has received no other complaints. And Joe's conduct in 2009 was an aberration that does not affect operating a radio station. Even his sentencing judge found that he was "not . . . likely to commit this or any other criminal offense in the future." Joe also had his civil rights, including his right to vote, restored in 2020. There are just no grounds to punish Joe—and, really, an entire community—for a conviction that has nothing to do with broadcasting. Joe's actual behavior reflects compliance with FCC rules for a decade.
Joe's Legal Claims
Agencies like the FCC enjoy discretion in deciding whether to revoke a license—but it's not limitless. Stripping a decade-long radio operator of his license because of an aberrant felony conviction and some late filings unlawfully abuses that discretion.
It would also be unconstitutional. Joe has a First Amendment right to speak, and the FCC can't take that away without a rational reason. IJ will make these arguments in the enforcement action the FCC is bringing, and, if necessary, it will make them again in an appeal to federal court.
The Litigation Team
Joe is represented by Institute for Justice Attorneys Andrew Ward and Daniel Nelson.
The Fight Against Permanent Punishments
Laws that permanently punish people for irrelevant crimes aren't rational. Sadly, they also aren't rare. Across the country, people striving to move forward from their convictions are blocked by government barriers that stop them from earning an honest living and exercising other rights. Despite a growing bipartisan consensus that these harsh laws don't protect the public and make reintegration after a conviction harder, tens of thousands of these laws remain on the books.
Across the country, the Institute for Justice is leading the fight against permanent-punishment laws. In Pennsylvania, IJ recently ended a law that banned cosmetologists with criminal convictions from working in their chosen field. In California, IJ is standing with Dario Gurrola, who hopes to earn an honest living as a fulltime firefighter, which California prohibits even though it used Dario as a firefighter while he was in custody. And in Virginia, IJ has teamed up with Rudy Carey, a substance-abuse counselor who long ago overcame his own drug and alcohol addiction but now faces a lifetime ban on counseling the people he's uniquely fit to help.
Outside the courts, with model legislation that has inspired reforms in 12 states and the leading study on occupational licensing barriers, IJ also stands at the forefront of policy on this issue nationwide.