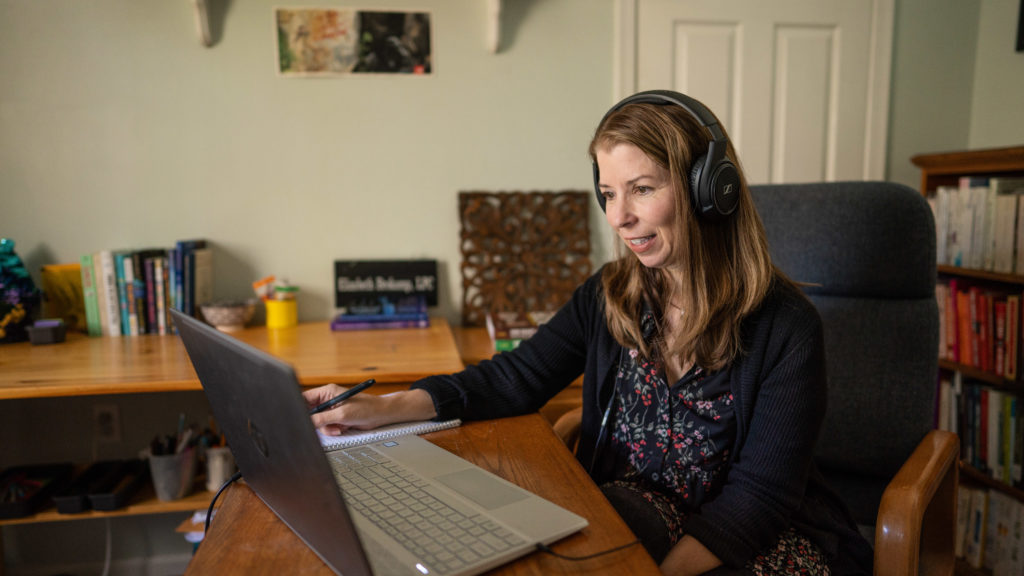 WASHINGTON— Today, a federal judge handed a first-round victory to a Virginia-based counselor challenging the District of Columbia's restrictions on online teletherapy—a ruling that means the government now faces a nearly insurmountable burden to defend its law. Elizabeth Brokamp, a Virginia-licensed therapist, brought a federal lawsuit after she was forced to turn away potential clients who wanted to see her online. D.C. insists that only therapists licensed by the District can serve clients located in the District, even if all they are engaging in is talk therapy. The Institute for Justice (IJ) represents Elizabeth in the lawsuit in D.C. and in a similar suit against the state of New York. 
In today's opinion, the court writes that the "licensing requirement regulates counseling, which is speech, not conduct," and that "[b]ecause the District's licensing requirement is a content-based regulation of speech, strict scrutiny applies."
"Strict scrutiny is the most demanding standard that courts can apply in free speech cases and is almost always fatal to the law being challenged," said IJ Senior Attorney Rob Johnson. "While we haven't won the case yet, this is a huge first step toward protecting the right of clients and therapists to talk over the internet without arbitrary interference from the government. After all, counseling is speech, and the government cannot prohibit unauthorized talking."  
Elizabeth, who has a master's degree in Counseling Psychology from Columbia University, has worked as a counselor for more than 20 years. For much of that time, she welcomed D.C. residents to her Virginia-based business for in-person counseling. When the pandemic hit and she moved her services online, she was told by District regulators that she could not see new D.C.-based clients via online teletherapy, even though it would have been totally legal for her to see those same clients in person.
"It's been so difficult to tell prospective clients that I can't help them, especially at a time when many prefer teletherapy to in-person visits," Elizabeth said.  "Hopefully, today's ruling will mean being able to provide clients with the mental health care they need, where and when they would like to access it."
A victory in this case would allow Elizabeth to offer teletherapy to D.C. residents and would set a precedent that could be used to help expand access to teletherapy nationwide.
This case is part of IJ's broader initiative to protect occupational speech. In 2010, IJ successfully challenged the District's licensing requirement for tour guides as a violation of the First Amendment. In 2013, IJ successfully represented a psychologist who was prosecuted by Kentucky's psychology licensing board for distributing a newspaper advice column in the state without a license. IJ is also currently challenging a Texas law forbidding licensed veterinarians from giving online advice, as well as Arizona's attempt to prohibit a trained engineer from truthfully describing himself as an "engineer."