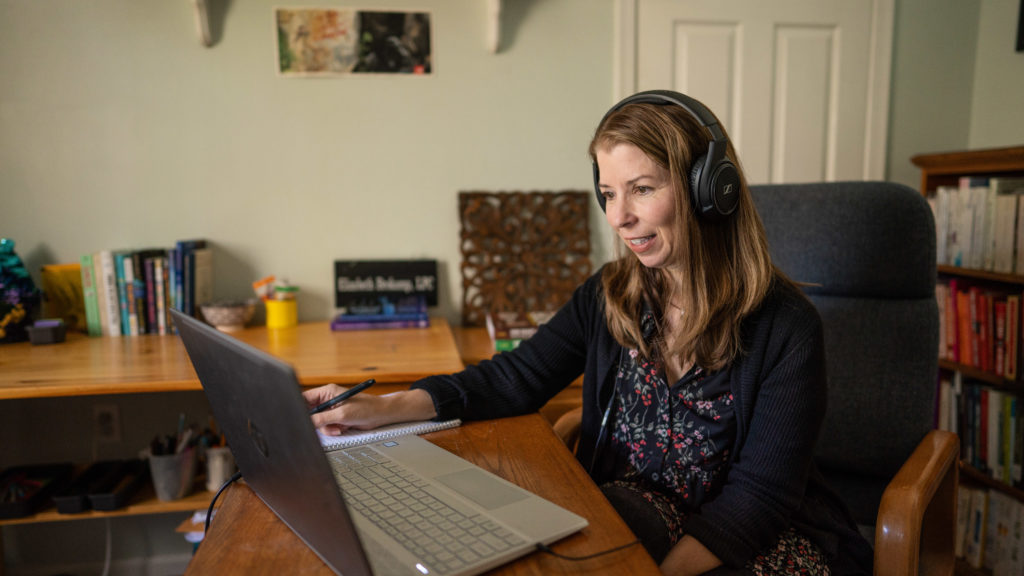 WASHINGTON—As the COVID-19 pandemic fell on the greater Washington, D.C., area, professional counselor Elizabeth Brokamp quickly shifted her practice online. Yet she ran into a problem: When potential clients living in the District of Columbia contacted her to begin counseling, she was forced to turn them away because she is licensed in Virginia, but not the District.
If not for the pandemic, clients in the District could easily drive to meet with Elizabeth in person in the Virginia suburbs. Elizabeth is licensed in Virginia, and it would be entirely legal for her to see District residents face-to-face. But when Elizabeth asked District regulators if she could see new clients via teletherapy, regulators told her she would be cited if she tried. Now, Elizabeth is teaming up with the Institute for Justice (IJ) to sue the District for her right to counsel new clients by teletherapy.
"Counselors use words—they talk to people about their emotions and help them feel better," said IJ Senior Attorney Rob Johnson. "Literally all Elizabeth wants to do in D.C. is talk over the internet. And under the First Amendment, the government cannot prohibit unauthorized talking."
The demand for teletherapy has greatly increased during the pandemic, with many Americans looking for a safe way to cope with stress related to sickness, lockdowns and economic hardship. And while Zoom and other video conferencing services have allowed many employees to continue working from home, a patchwork of regulations confronts professionals wishing to practice teletherapy and telemedicine.
Elizabeth Brokamp has worked as a professional counselor for over twenty years, and she holds a master's degree in Counseling Psychology from Columbia University. She is currently working toward a doctorate and holds certifications in several counseling specialties, including teletherapy. A temporary waiver allows Elizabeth to see clients with whom she has an existing relationship, but that waiver is only temporary and does not allow Elizabeth to take on new clients in the District.
"It is painful for me to have to tell people in D.C. that I am not allowed to help them right now," said Elizabeth. "People should be able to engage with the counselor who can best meet their needs wherever they live and continue seeing that counselor if they move across the country. I hope my case can start removing senseless boundaries to teletherapy."
Elizabeth's legal claim is simple: Counselors talk to people about how to deal with problems in their lives, and, under the First Amendment, the government cannot cite counselors for talking. The District's licensing law requires a professional counseling license for anyone who speaks with another person to "achieve long-term effective mental, emotional, physical, spiritual, social, educational, or career development and adjustment." That law is staggeringly broad; read literally, it would sweep up friends, family members, pastors, self-help gurus and life coaches.
In practice, only professionals like Elizabeth are subject to the restriction on their speech. If Elizabeth had no training, she could provide her services as an unlicensed "life coach." It is precisely because of Elizabeth's qualifications and experience—the very reasons clients want her help—that the District bars her from talking. The District cannot constitutionally prohibit all unlicensed counseling, as such a restriction would sweep too broadly, and it cannot constitutionally prohibit Elizabeth's speech just because she is effective at her job.
"Elizabeth has spent countless hours training to help people, and there are people in D.C. who are asking her for help," said IJ Constitutional Law Fellow John Wrench. "Teletherapy makes it possible for Elizabeth to provide that help even during a pandemic. Now the D.C. government needs to get out of the way."
This case is part of IJ's broader initiative to protect occupational speech. In 2010, IJ successfully challenged the District's licensing requirement for tour guides as a violation of the First Amendment, and IJ successfully represented a psychologist who was prosecuted by Kentucky's psychology licensing board for distributing a newspaper advice column in the state without a license. IJ is also currently challenging a Texas law forbidding licensed veterinarians from giving online advice, as well as Arizona's attempt to prohibit a trained engineer from truthfully describing himself as an "engineer."