For thirty years, Carlos Pena ran a print shop in North Hollywood. His world was turned upside down, however, in August 2022, when a fugitive forced his way into Carlos's shop and barricaded himself inside. After a prolonged standoff, the City of Los Angeles's SWAT team stormed the shop, launching dozens of grenades that tore through the walls, windows, and ceilings, destroying most of Carlos's expensive printing equipment. In total, the damage from the assault alone exceeded $60,000.
Carlos's insurance—as is common—does not cover destruction committed by the government. Meanwhile, Carlos couldn't afford to repair his shop and replace his equipment. He twice requested compensation from the City, which ignored his pleas. Unable to re-open his shop, Carlos has lost out on tens of thousands of dollars in revenue. Carlos had hoped to pass the business on to his son; now, he can hardly afford to pay his own bills.
This is not merely unfair; it's unconstitutional. When the government deliberately destroys an innocent person's property for some public benefit, it must pay for it. In this case, the City's officers determined that the public benefit of apprehending a fugitive outweighed the costs of destroying Carlos's shop. That was their decision to make, but, under the United States Constitution, they must pay for it.
Case Team
Clients
Attorneys
Staff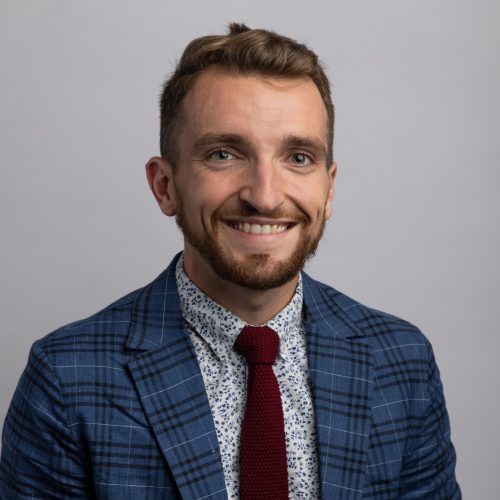 Communications Project Manager
Media Resources
Get in touch with the media contact and take a look at the image resources for the case.
Dan King
Communications Project Manager
[email protected]
Carlos's Story
Carlos Pena is perhaps the embodiment of the American Dream. Decades ago, Carlos moved his family from his native El Salvador to North Hollywood. Carlos contributed to his new community by opening up his own business—a print shop named NoHo Printing & Graphics. He served everyone in the community, from walk-in customers with tiny orders, to long-term commercial clients. He enjoyed seeing his work on display in the windows of other small businesses in the neighborhood, and he was proud to be able to provide a good living for his family. One day, Carlos hoped, he would pass the shop keys to his son.
But on August 3, 2022, everything changed. That afternoon, Carlos was in his shop when he heard loud noises outside. Carlos opened the door to investigate and he was shocked to see a man running towards him—and away from U.S. Marshals with weapons drawn. That man hit Carlos on the shoulder, threw Carlos outside, and locked himself inside Carlos's shop. The federal agents then ordered Carlos to stay back as they surrounded his shop.
Additional officers from Los Angeles's Special Weapons and Tactics (SWAT) team soon arrived. Attempting to capture the fugitive inside, the SWAT team fired dozens of rounds of teargas cannisters that tore through Carlos's walls, roof, doors, and windows. The resulting toxic gas saturated the structure and everything inside. When the SWAT team finally entered the shop, they found that the fugitive had, somehow, escaped.
Dreams Dashed
Days after the assault, Carlos was allowed to return to his shop. The place was a total mess: The damage from the teargas cannisters (and the resulting toxic gas) had destroyed virtually everything inside, including all of Carlos's expensive printing equipment and his inventory. The gas itself rendered the shop uninhabitable until a HAZMAT team could remediate it. Meanwhile, Carlos's insurance did not cover any of the damage from the assault (because, as is common, his policy didn't cover acts of government). In total, the damage to Carlos's property exceeded $60,000.
The U.S. Marshals Service told Carlos that he should seek compensation from the City of Los Angeles, because it was the City's SWAT team that actually damaged Carlos's shop. Carlos took their advice and sent a letter to the City, which gave no official response (though one of its employees told Carlos over the phone that he would likely not be compensated). Carlos has repeatedly followed up with the City, and he has yet to receive a formal denial.
Without compensation, Carlos cannot afford to repair his shop or replace his equipment. Some friends helped Carlos set up a makeshift print shop in his garage—but, even then, Carlos estimates that he is earning less than 20 percent of his previous revenues. Ten months after sending his first letter, Carlos sent another letter to the City to request that they compensate him for repairs and lost revenues. And once again, the City ignored Carlos's plea for help.
Carlos does not fault the City's police officers for doing what they thought had to be done to secure the community from a dangerous fugitive. That was a public service. But the costs of that service should be borne by the public—not Carlos, an innocent, unlucky property owner. That's why, with IJ's help, Carlos is seeking compensation from the City in federal court.
The Defendant
The defendant in this case is the City of Los Angeles, California.
Legal Claims—the Right to Compensation for Intentional Destruction of Property
Under the United States Constitution (specifically—the Just Compensation Clause of the Fifth Amendment, applied to the states through the Fourteenth Amendment), the government may take private property for public use—but only if it provides just compensation to the property owner. Most people are familiar with this concept in the realm of eminent domain, where the government might decide to condemn property to build a road, school, or park. But the principle applies just as strongly when the government "takes" property by intentionally destroying it. For instance, if the government builds a dam that causes an innocent person's property to become flooded, the government has to pay for the value of that destroyed land.
This analysis applies even to actions taken pursuant to the government's so-called "police power." The Supreme Court has repeatedly and explicitly held that exercises of the police power are not exempt from the Just Compensation Clause. Some lower courts have already recognized that this means that cities must compensate innocent owners for damage caused in a SWAT raid. In short, whenever a government official decides that the public good requires destroying your shop (or your home, etc.), the government has to pay—it does not matter that the government official happened to wear a badge.
To be clear, Carlos does not claim that the City of Los Angeles or any of its police officers wrongly destroyed his shop. The City decided that destroying Carlos's shop would provide a public benefit outweighing the costs. That's their choice—but the Constitution requires that the City pay for it. Moreover, it requires that the City pay Carlos for lost revenues resulting from the City's ongoing, unconstitutional delay in compensating him for the destruction. (Carlos recognizes that even if he had been immediately compensated, it would have taken a few weeks to get his shop running again, and he does not seek compensation for any revenue during that period of time—only for revenue lost due to the City's delay.)
The costs of policing—a shared societal benefit—should not fall disproportionately on innocent, unlucky Americans like Carlos. That's why the Institute for Justice is supporting Carlos's bid to establish that police, too, are not immune from the classic maxim of "you break it, you bought it."
The Litigation Team
This case is led by IJ Attorneys Jeffrey Redfern and Suranjan Sen. Local counsel is Jarod Bona and Luke Hasskamp of Bona Law PC.
About the Institute for Justice
IJ is the nation's premier defender of property rights. In June 2022, a jury ruled that the city of McKinney, Texas, must pay nearly $60,000 to a woman whose home was destroyed by a SWAT team, following IJ's lawsuit. IJ currently represents a Texas farmer who is seeking compensation after the state built a concrete barrier along a highway that causes devastating floods on his farm. IJ also represented the property owners in the now infamous Supreme Court ruling Kelo v. New London, which led to states throughout the country reforming their eminent domain laws to prevent property rights abuses.