Leavitt's Country Bakery has been a pillar of the town of Conway, New Hampshire, for over 45 years. It's the only shop in town that handmakes its donuts, and in 2022 Leavitt's won the "Best Doughnuts in New Hampshire" award from a local news station. But for all that time, Leavitt's has just featured a drab, blank red façade above its front door.
That changed in summer 2022, when a group of local high school art students got permission from the bakery's owner, Sean Young, to use the façade as a canvas. Sean gave the students carte blanche to design and paint whatever they wanted. The result was something fitting and delightful: a whimsical depiction of a sunny New England mountain landscape made entirely of baked goods, such as doughnuts and muffins. The local community loves it and so does Sean.
But the town's zoning officials insist the mural must come down. Why? Because, they say, the mural is no mural at all—rather, it is a sign larger than what the town's sign code allows. The town allows murals. But Conway insists that Leavitt's mural is a "sign" for one ridiculous reason: the mural features baked goods and Leavitt's Country Bakery sells baked goods.
That's unconstitutional. Government officials don't get to tell people, including entrepreneurs and businesses, what they can and can't paint. And no one can say with a straight face that Leavitt's mural would be any safer, healthier or more aesthetically pleasing if it portrayed flowers instead of pastries. That's why Sean has teamed up with the Institute for Justice to file a federal lawsuit challenging Conway's unconstitutional sign code. Victory will both assure the Leavitt's mural stays where it is, in the form the students intended, and give local officials a much-needed civics lesson about the First Amendment.
Case Team
Clients
Attorneys
Staff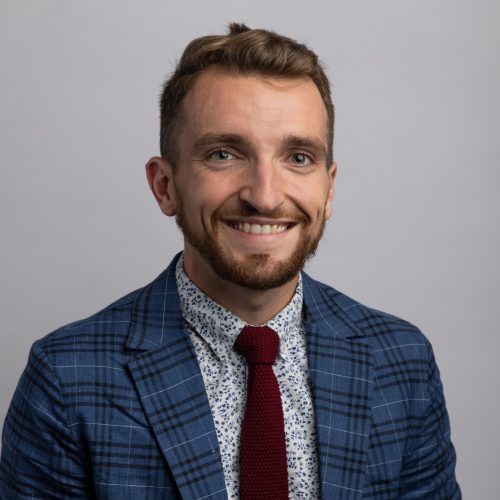 Communications Project Manager
Paralegal & Office Manager
Media Resources
Get in touch with the media contact and take a look at the image resources for the case.
Dan King
Communications Project Manager
[email protected]
Sean Young becomes a bakery owner
Conway local Sean Young had been a loyal customer of Leavitt's Country Bakery for years. When the bakery's founders, Beth and Ray Leavitt, decided to sell the business a couple of years ago, local press called it the "end of an era." Although the Leavitts wanted the bakery to continue, most potential buyers wanted to use the building for some other purpose. But not Sean. He, like Beth and Ray, wanted to keep the bakery alive. So Sean scraped together his resources and bought Leavitt's himself in 2021. Thanks to Sean, Leavitt's is still the family-run bakery and local gathering spot it has been for decades.
Local high school students paint a mural for Leavitt's Country Bakery
Leavitt's had always been a plain red building, including the flat wooden façade above its entrance. But in early 2022, a friend connected Sean with the local high school art teacher regarding a project for her students: a mural to adorn Leavitt's blank façade. Sean loved the idea and heartily agreed.
When word got around that the students were painting a mural, Sean's friends and Leavitt's customers enthusiastically offered ideas for what it should look like. But Sean believed the kids should have complete creative freedom, so he gave the high school art class carte blanche to paint whatever they wanted.
Six weeks later, the students were finished. A few days before it was unveiled, Sean got his first look at the mural. It was love at first sight. The students had come up with something that perfectly celebrated both the nearby White Mountains, a regional attraction, and Leavitt's Country Bakery, a local institution. Their charming painting features sunbeams over a mountain range, with the mountains made of donuts, muffins and other pastries.
The unveiling of the mural in June 2022 was a public event attended by the students, their families, community members and local press. Everyone was happy. Everyone except for the local code enforcer.
The town comes after the donut mural
About a week after the mural was installed, the local code enforcer showed up. He told Sean that the mural wasn't a mural, but in fact an illegal sign four times bigger than the town's sign code permitted.
This was confusing to Sean, since there are several murals displayed throughout Conway. But the code enforcer explained that, in the town's view, Leavitt's mural was a sign because it depicts the very items Leavitt's sells: baked goods. In other words, had the high schoolers opted to paint mountains in a realist style rather than as baked goods, town officials would consider it a mural. The same would be true if they opted to paint flowers instead of baked goods. Town officials told Sean that if he moved the mural to the farm stand next to Leavitt's on the same lot, the mural could stay up because the farm stand doesn't sell baked goods.
Unfortunately, the town has been enforcing its sign code this way for years. In 2006, it made a local ice cream parlor called "Lickety Splitz" get rid of ice-cream-cone-shaped trash cans it had put outside its store. In 2009, the town decided that a farm stand's lovely mural of a field being plowed by a draft horse was a sign for the exact same reason. The town is currently enforcing its sign ordinance against a mural at Settlers' Green mall.
To Sean, all of this seemed ridiculous: After all, what difference does it make if the students decided to paint pastries instead of mountains? And when Sean appealed to the local zoning board, he had the whole valley behind him. Leavitt's received over 1,200 comments on its Facebook page with 99.25% in support of the mural, and 60 comments in the local newspaper with 95% in support of the mural. But over the course of two separate hearings, the zoning board refused to budge. The board members agreed with the code enforcer: If the mural relates at all to what is happening inside the Leavitt's building, it is a sign.
The code enforcer sent a demand to Sean at the end of 2022: Bring the painting into compliance with the sign code or face enforcement proceedings. Sean is left with a stark choice. He can paint over the students' vision and remove the mural altogether, or risk criminal charges and fines of $275 per day. That's not just absurd, it also violates Sean's First Amendment rights.
The First Amendment protects the Leavitt's mural
One of the bedrock principles of the Free Speech Clause of the First Amendment is that government officials cannot discriminate against certain speech based on the content of that speech or the identity of the person speaking. The Supreme Court made that clear in 2015, when it struck down a Gilbert, Arizona, sign code that allowed some messages to be displayed on signs in the town while disallowing other messages. 1
In that case, a church wanted to post some directional signs letting people know where their services would be held, but Gilbert would not allow it, even though other signs with other messages were permitted. In striking down Gilbert's sign code, the court held that government discrimination against speech based on its content is unconstitutional unless the government proves that such discrimination is the least restrictive way to achieve a compelling government interest. Gilbert's code failed that test, since there was no reason to think that the church's signs were any more a threat to the public than any other type of sign. In the same opinion, the court held that speech restrictions based on the identity of the speaker are also unconstitutional.
But that's exactly what Conway officials are doing. They are discriminating against Leavitt's mural because of what it depicts and who is doing the speaking. If the bakery's mural depicted mountains, it would be fine. If the donut mural were on the farm stand, that would be fine as well. Conway is going after Leavitt's mural solely because it's a bakery and its mural depicts baked goods.
Conway's campaign against the student-designed mural is unconstitutional. Just like the town of Gilbert, Conway has no compelling reason for treating murals differently based on the content of the paintings or the identity of the speakers. It's not like a mural suddenly becomes more dangerous or less aesthetically pleasing when it depicts donuts instead of daffodils.
In the end, the town's position rests on an irrational prejudice against speech by or connected to entrepreneurs and businesses. But businesses are not second-class citizens when it comes to free speech and there is no "related to your business" exception to the First Amendment. Leavitt's charming painting of sunshine and baked goods is artistic expression entitled to full protection, no matter what Leavitt's happens to sell.
Sean and the high school students thought they would get a lesson in art, but instead they got a lesson in censorship. The town of Conway's pattern of enforcing its sign code based on what a piece of art depicts and who's doing the speaking is unconstitutional under the First Amendment. That's why Sean has joined forces with the Institute for Justice to bring this federal lawsuit to ensure that the Leavitt's Country Bakery mural stays as it is, right where it is.
The Plaintiffs
The Plaintiffs are Sean Young and his business, Forever Young Properties LLC, doing business under the name "Leavitt's Country Bakery."
The Defendant
The Defendant is the town of Conway, New Hampshire.
The Lawsuit
Instead of money, Sean and Leavitt's Country Bakery are asking the court to (1) declare that the town of Conway's sign code and the way it is being enforced against Sean and Leavitt's violates their First Amendment rights, and (2) issue an order that prevents the town from fining or prosecuting Sean or Leavitt's for keeping the mural up.
The Litigation Team
The lead attorney on this case is Institute for Justice Senior Attorney Robert Frommer. 2 Also on the team is Institute for Justice Litigation Fellow Betsy Sanz. 3
About the Institute for Justice
The Institute for Justice (IJ) is the national law firm for liberty and a prominent defender of economic liberty and First Amendment rights for individuals, entrepreneurs, and businesses—especially small businesses. IJ is the leading advocate for Americans' right to speak out using murals and signs.
IJ has challenged restrictive sign codes in dozens of cities across the country. For example, IJ has challenged sign codes restricting a protest sign in Norfolk, Virginia; 4 a saloon's mural in Mandan, North Dakota; 5 a gaming store's inflatable character in Orange Park, Florida; 6 a gym's portable sign in Sacramento; 7 a nonprofit's mural in St. Louis, Missouri; a doggy day care's mural in Arlington, Virginia; 8 a bagel store's sandwich board sign in Redmond, Washington; 9 an individual's for-sale sign on his car in Glendale, Ohio; 10 and many others.