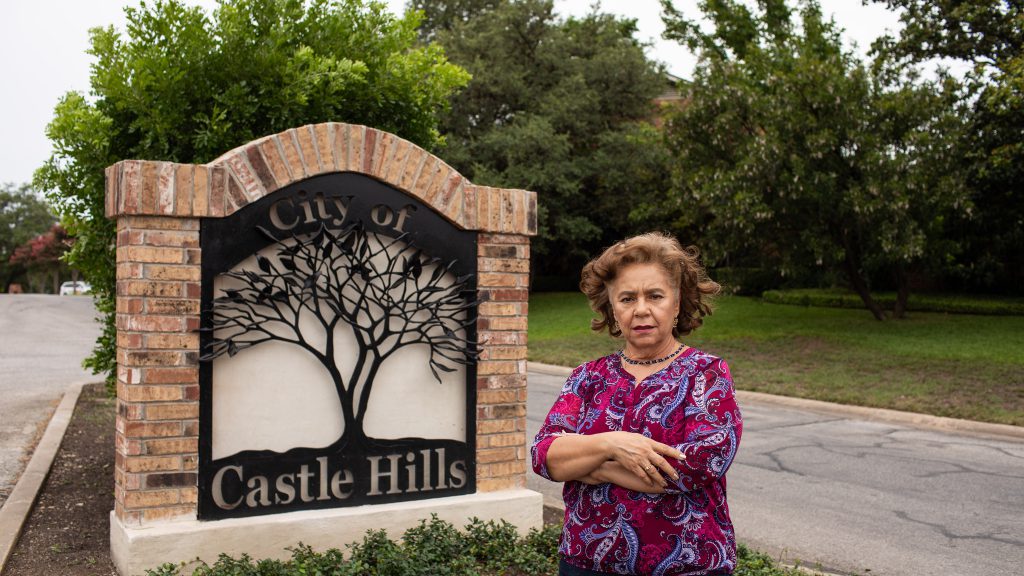 Last year, Sylvia Gonzalez—a 72-year-old retiree—was elected to the Castle Hills, Texas city council on the promise that she'd work to make the city more responsive to citizens' needs. But Gonzalez's reform agenda did not sit well with the incumbents—representing the city's entrenched interests—including the mayor and city manager, who residents complained did little to address their concerns. Rather than listening to her concerns, officials abused their power to retaliate against Gonzalez.
Within weeks of winning her election, the harassment began. First, the city attorney, who was aligned with the mayor and the city manager, claimed she wasn't properly sworn in and replaced Gonzalez on the city council with the woman she'd just beaten. When a judge reinstated Gonzalez, the city officials didn't give up.
In fact, that was only the beginning. In the midst of their attempt to unseat her, the mayor and police chief used bogus charges and a rarely-used law to have Gonzalez arrested, booked, and thrown in jail—but Gonzalez had done nothing wrong. Once the county prosecutor got involved, he dropped the case against her.
Finally, after beating back the city twice, a group of citizens aligned with the mayor filed a lawsuit claiming Sylvia was incompetent. Sylvia stood her ground and won—but by then the damage had been done. Sylvia's mugshot had been splashed across the news and her reputation dragged through the mud. Exhausted—with tens of thousands of dollars in legal bills—she stopped the fight to reclaim her seat.
Sylvia may have given up on her seat, but she hasn't given up on her ultimate mission to hold the city officials accountable. Today she partnered with the Institute for Justice (IJ), a national public interest law firm, to file a lawsuit against the city officials who abused their power and violated Sylvia's First Amendment right to speak out against the government.
"Castle Hills officials seem to believe that they are above the law because they are the law," said Anya Bidwell, an attorney at the Institute for Justice, which represents Sylvia. "But criticism isn't criminal, it is a constitutional right. And it is patently unconstitutional for an official to use the police to stifle speech and retaliate against political opponents."
From the upper echelons of the federal government through state bureaucrats and inspectors to local police and prosecutors, Americans are becoming increasingly aware of the role courts play in holding officials accountable for illegal or unconstitutional actions. Unfortunately, in many circumstances, courts have held that government officials are immune, but that is beginning to change. In November, the Institute for Justice will argue a case at the Supreme Court that seeks to hold government officials accountable for beating an innocent college student because they unreasonably misidentified him as a fugitive.  And a growing number of federal appeals courts have ruled that official immunity is not absolute: When officials flagrantly violate citizens' rights—as they did in Castle Hills—they can be held accountable in court.
"When the government officials who are charged with upholding the law break it, they have to be held accountable," said IJ attorney Patrick Jaicomo. "What good are rights without legal remedies? The courts are a necessary check on government power. This lawsuit seeks to give Sylvia an opportunity to have her day in court and stand up for her constitutional rights."
"I was arrested and thrown in jail because city officials didn't like that I criticized them," said Sylvia Gonzalez, the plaintiff in this lawsuit. "But being able to disagree with the government is at the heart of our democracy, and I'm here to stand up and make sure others are not silenced the way I was."
Bidwell added: "A hallmark of the American experiment is that the average citizens can step up and run for local elective office. In many ways, Sylvia is a model citizen. She doesn't have so much as a speeding ticket on her record, and yet she was arrested and thrown in jail for standing up to the powerful and speaking her mind. This is not Putin's Russia, where critics are silenced, this is America. We're confident the courts will see this for what it is: a flagrant abuse of power that must be checked."
The lawsuit asks the court to hold that Sylvia's constitutional rights were violated when the government arrested her in retaliation for her speech, as well as unspecified damages to cover the money Sylvia spent to defend herself against the onslaught by the city. The lawsuit is part of IJ's Project on Immunity and Accountability, which is devoted to the simple idea that government officials are not above the law; if citizens must follow the law, then government officials must follow the Constitution.