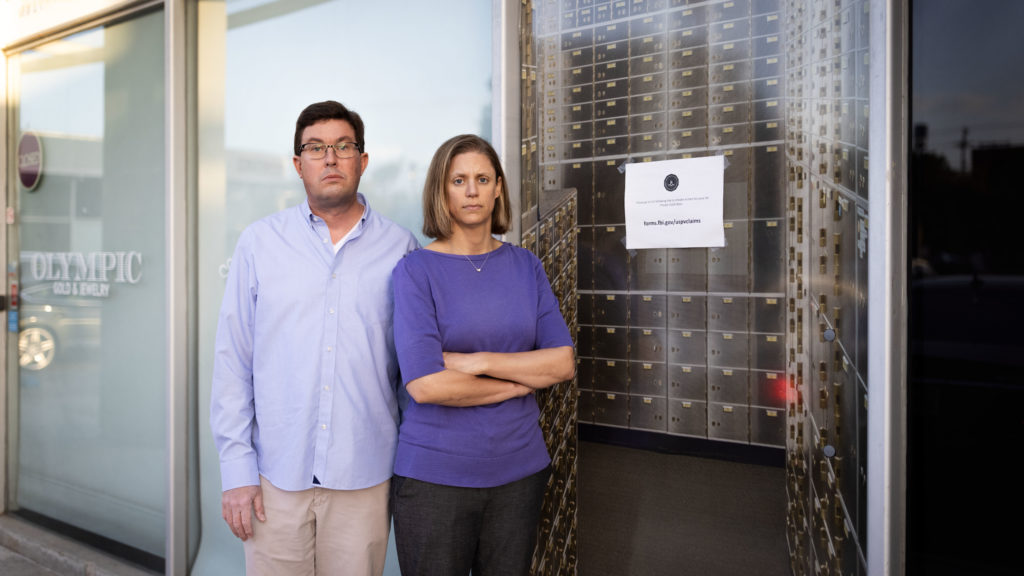 LOS ANGELES—This morning, the Institute for Justice (IJ), a national public-interest law firm, filed suit in federal court demanding that the FBI return items it seized from hundreds of people in a March raid of a Beverly Hills security deposit box company. While previous suits have been filed on behalf of anonymous plaintiffs, this is the first case in which named plaintiffs are stepping forward to get back their prized possessions since being seized from boxes rented from U.S. Private Vaults over two months ago.
The FBI's warrant for the raid did not include permission to do a criminal seizure or search of the contents of the rented boxes – only U.S. Private Vaults' own business property. The government promised it would only look into the boxes to identify ownership, but it immediately broke its word. Once in the location, agents opened hundreds of boxes, ran any currency in front of drug sniffing dogs, and made copies of records in peoples' boxes.
Now the government is forcing people to submit to an investigation to show they owned their property legally before it is returned. The lawsuit, filed in U.S. District Court for the Central District of California, alleges that the government's shocking behavior violates the Fourth and Fifth Amendment rights of Jennifer and Paul Snitko, Joseph Ruiz, Tyler Gothier and all others who rented boxes at U.S. Private Vaults.
"The government's dragnet search of innocent peoples' private security boxes is the most outrageous Fourth Amendment abuse that the Institute for Justice has ever seen," said IJ Senior Attorney Robert Frommer. "It is like the government breaking into every apartment in a building because the landlord was dealing drugs in the lobby."
Jennifer and Paul Snitko never thought they would need to worry about the federal government seizing the items they placed in the box they rented from U.S. Private Vaults. They stored possessions valuable mainly to them: Paul's father's will, backup hard drives, old family watches and Paul's flight log. The Snitkos filed a claim form with the FBI, but when they asked an agent what the process was to get their property returned, the agent replied that she did not know. And when they asked when they would get their property back, the agent conveyed that there wasn't any time frame.
"That the federal government broke open our safety deposit box was shocking and that we have no idea when we will get our property back is infuriating," said Paul. "When you've done nothing wrong, you shouldn't be subjected to an investigation. We're fighting for our property and for the principle because no one else should have to go through this nightmare."
That the Snitkos and other box holders had their property seized at all is a clear constitutional violation. The Fourth Amendment protects Americans from unreasonable search and seizure. The warrant issued for U.S. Private Vaults limited the FBI to taking the "nests of safety deposit boxes and keys," not individual boxes. Federal prosecutors promised the court that when it seized the nest, it would only "inspect the property as necessary to identify the owner" and that its inventory search would "extend no further than necessary to determine ownership."
The Snitkos placed a letter on the top of their box containing instructions on how to contact them or their legal representative. Instead of reaching out to the Snitkos and asking them to claim their locked box, the FBI opened it and recorded its contents. Now, the federal government is holding onto everyone's property without charging them with a crime or giving them a prompt way to get that property back, a violation of Fifth Amendment rights to due process.
"Privacy and property are essential rights of all Americans," said IJ Senior Attorney Rob Johnson. "The government treats box holders as somehow suspicious just because they held their property in a private and secure facility. But privacy is a constitutional right, not a ground for suspicion. If the government can get away with this here, we all will be at risk of similar intrusion in our own private space."
The Institute for Justice is the nation's leading advocate for property rights, defending property owners from unconstitutional searches, seizures, abusive fines and civil forfeiture. IJ is defending renters from warrantless home inspections in inspections in Illinois, Washington State and Pennsylvania. And in New York, IJ is challenging the NYPD's practice of making property owners waive their right to be free from unconstitutional searches.