IJ Wins Big Early Victory for Tiny Homes in Idaho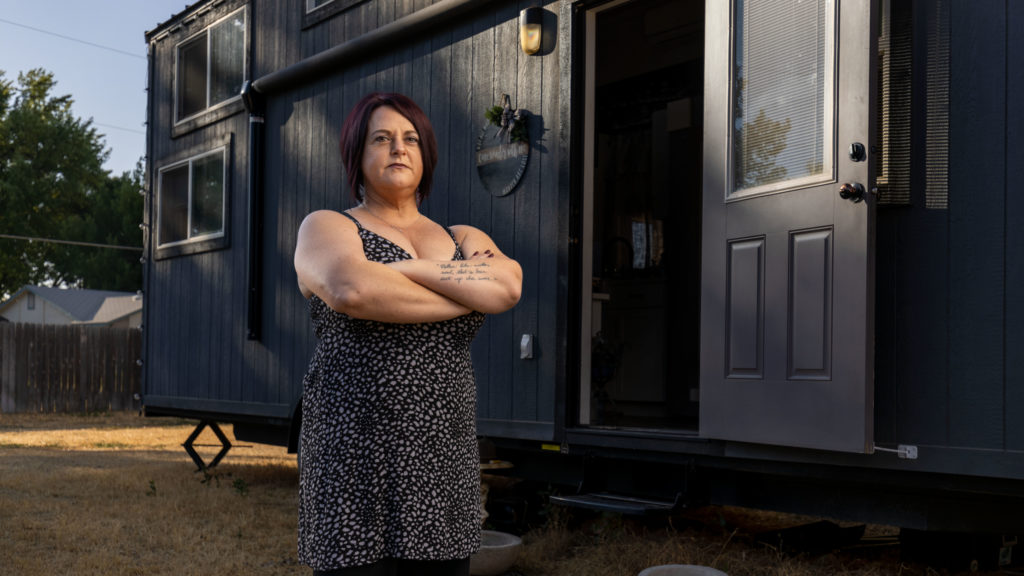 When IJ sues, the government almost always tries to avoid facing the music by filing a motion to dismiss, which asks the judge to throw out the case without hearing any evidence. It is a critical step in our litigation that means the difference between having a chance to fight for our clients' rights or having a case end before it has even really begun. IJ recently faced such a motion after we sued the city of Meridian, Idaho, to get Chasidy Decker back in the tiny home on wheels she lived in on Robert Calacal's private property.
Readers may recall that IJ sued the city in August 2022 on behalf of Chasidy and Robert after the city forced Chasidy out of her home. And although Chasidy's home is tiny, the legal issues at the center of her case could not be more significant. Indeed, Chasidy and Robert's case raises cutting-edge property rights issues that have nationwide implications. Most notably, the case is a textbook example of how municipalities across the country use zoning codes not to protect public health and safety, but to trample property rights and make housing unaffordable. Sadly, courts have been all too complicit with these practices, treating zoning codes as almost exempt from constitutional limits.
It was no surprise, then, that the city asked the judge to throw out Chasidy and Robert's case, making all-too-familiar arguments that Idaho's constitutional protections for property rights don't amount to much of anything. But now we can happily report that IJ won this critical first-round victory when the judge denied the government's motion. As a result, we can now marshal evidence to show exactly how the city violated Chasidy's and Robert's rights under the Idaho Constitution.
That's a big victory in property rights cases, like this one, where judges often defer to the government and accept implausible, evidence-free arguments. It's also a big victory here because we've already begun to find powerful evidence to make our clients' case. As just one example, we have been able to show that the city restricts tiny homes on wheels to a single RV park composing just 0.3% of the city, banning them in the other 99.7%. This is particularly valuable evidence because it affirms concerns the judge has already expressed that the city's zoning ordinances are in essence a total ban on such homes.
Most of all, though, our victory means that Chasidy has a fighting chance of vindicating her rights when the court finally decides the merits of her case. In the meantime, we're off to collect the evidence that will persuade the judge to allow Chasidy back into her tiny home on wheels for good.
Bob Belden is an IJ attorney.
Subscribe to get Liberty & Law magazine direct to your mailbox!
Sign up to receive IJ's bimonthly magazine, Liberty & Law, along with breaking news updates about the Institute for Justice's fight to protect the rights of all Americans.