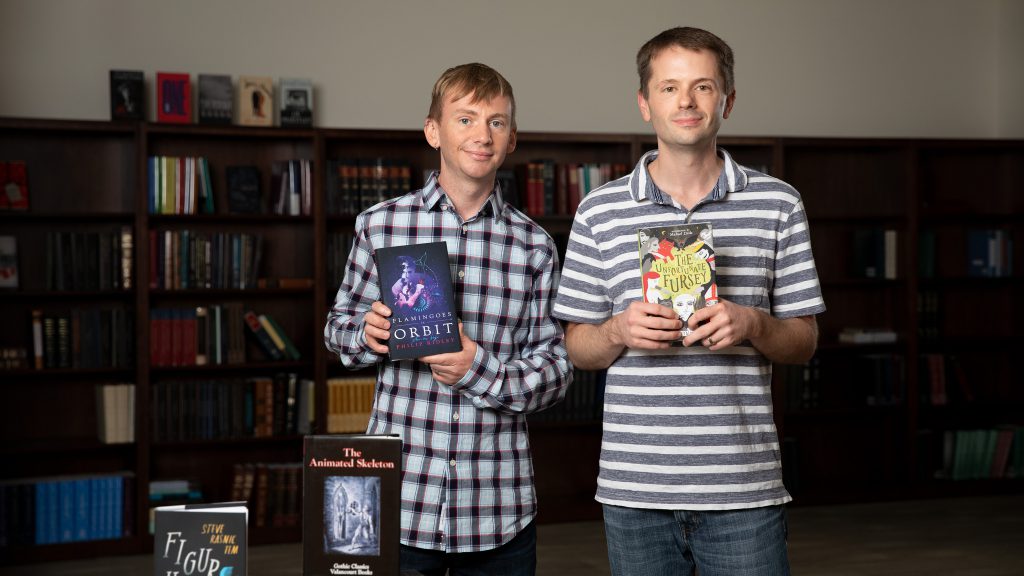 Richmond, Va.—The U.S. Copyright Office is demanding copies of hundreds of books published by a small Richmond publisher, Valancourt Books. If Valancourt doesn't send the books, they could be subject to six figures in fines. But there's a problem: Valancourt doesn't have the books. They are a print-on-demand publisher, and giving the federal government free books would damage their business. To protect their property and their right to free expression, Valancourt has teamed up with the Institute for Justice (IJ) to file a lawsuit in federal court.
Valancourt uses modern methods to preserve old, forgotten books. The idea for the business was hatched when owner James Jenkins was applying for a program in English Literature. He had to drive halfway across the country to find a copy of a novel he wanted to write about; even then, it was available on microfiche only. James thought that other literature fans would appreciate the novel (and a second out-of-print book he had on microfiche). So he and his husband painstakingly typed out the books and then offered them for sale on their website, where they were made available in print-on-demand versions.
Over the years, James built the business up to the point where he could make it his full-time job. Valancourt has received praise from prominent publications for its preservation work, which focuses on 18th-century Gothic novels, Victorian horror novels and works by early LGBT authors, all of which they have permission to reprint.
The Copyright Office is correct that the law entitles the government to copies of Valancourt's books. The law, however, is a relic of the United States' old copyright system, which used to require sending books to the government to register copyright. Now, copyright is conferred the moment pen is put to paper—but the legal requirement to send copies to the government remains in force anyway.
"You don't owe the government anything just because you published a book," said Robert McNamara, a senior attorney at IJ. "Valancourt Books is trying to bring long-forgotten books to a wider audience that wants to read them. They shouldn't be punished for that."
Earlier this summer, Valancourt was sent notice by a federal "acquisition specialist" informing James that his business had failed to comply with federal "mandatory deposit" rules for its books. Failing to provide the books by September could subject Valancourt to fines of $250 per book (plus the retail price of the books), along with additional fines of $2,500 for "willful" failure to deposit the books.
"Sending hundreds of our books to the government will cost us thousands of dollars and many hours of time, which cuts into our already limited resources for our mission to rescue rare and important literature," said James Jenkins, co-owner of Valancourt Books. "But if we don't send the books, the Copyright Office says they will fine us out of existence. We had no choice but to stand up for our constitutional rights and fight back, which is why we are joining the Institute for Justice in challenging this unjust law."
Valancourt and IJ are suing the Copyright Office in the United States District Court for the District of Columbia. The lawsuit raises two claims. First, the mandate violates the Takings Clause of the Fifth Amendment: The federal government can't simply force someone to turn over their personal property for the government's own use without paying them for it. And second, the mandate violates the First Amendment: The deposit requirement operates as a penalty on people who publish physical books without turning over a copy.
The book-deposit requirement is a symptom of a broader problem throughout the federal government. Like many federal laws, the book-deposit requirement is obscure; most people—perhaps even most people in the publishing industry—have no idea it exists. And, like many federal laws, the requirement is mostly unenforced. Publishers have to comply only when (as happened to Valancourt) one of the Copyright Office's handful of "acquisitions specialists" happens to spot them and threatens them with astronomical fines. Given the sheer amount of self-published material, there is no question that thousands of books a year go undeposited without anyone noticing.
"The federal code is full of requirements that most people don't know about and that are generally ignored—right up until the moment a government official happens to notice you and threatens you with six-figure fines," said Jeffrey Redfern, an attorney with IJ. "The mandatory-deposit requirement is clearly antiquated and unconstitutional. It should never be enforced again."