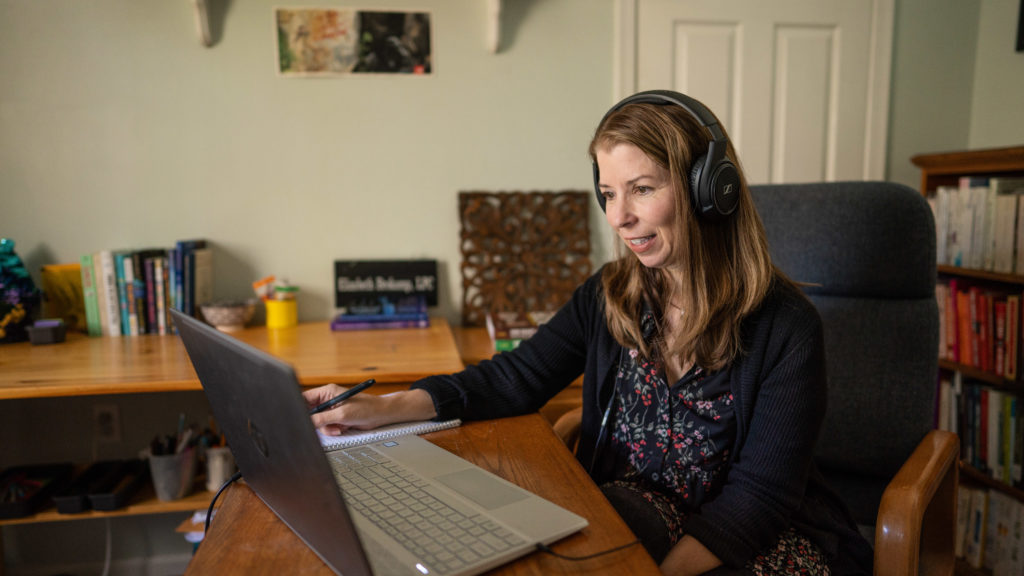 WASHINGTON—Yesterday, a Virginia-based therapist asked the United States Supreme Court to hear her case challenging restrictions on her ability to conduct teletherapy across state lines. Elizabeth Brokamp, represented by the Institute for Justice (IJ), is asking the court to strike down licensing requirements that force her to get a duplicative license in each state any of her clients move to.
Elizabeth lives in the Virginia suburbs of Washington, D.C., and operates a licensed counseling practice completely online. In 2020, one of her clients moved to New York. Elizabeth was able to continue seeing the client because during the pandemic the state waived its restrictions on teletherapy from counselors without a New York State license. But the waiver was only extended on a month-to-month basis, and it eventually expired, forcing Elizabeth to stop speaking with her client—and leaving countless other New Yorkers at risk of similarly losing their mental health provider.
"The fact that New York waived its licensing requirements during the pandemic just shows how unnecessary these restrictions are in the first place," said IJ Attorney Jeffrey Redfern. "These licensing requirements do nothing to protect the health and safety of clients seeking online therapy. As a matter of fact, they do the exact opposite by making it harder for clients to find a therapist who meets their needs."
Elizabeth has worked as a professional counselor for over 20 years, and she holds a master's degree in counseling psychology from Columbia University. She is currently working toward a doctorate and holds certifications in several counseling specialties, including teletherapy. In December 2020, Elizabeth sued the District of Columbia over a similar restriction on teletherapy, which bars her from taking on new clients in D.C.
"We're at a moment when people are paying more attention to their mental health, and seeking therapy and counseling that they feel addresses their unique needs," said Elizabeth. "Clients shouldn't be blocked from speaking with a counselor or therapist they have a good relationship with just because that therapist or counselor lives in a different state. We should be making it easier for people to find the care they need, not harder."
"Elizabeth and her patients have a First Amendment right to have conversations with each other, even if the state government doesn't want them to," said IJ Attorney Rob Johnson. "Forcing Elizabeth to get a new, duplicative license in each state one of her clients moves to is unsustainable for her business and harmful to her clients."
New York's licensing law requires a mental health counseling license for anyone who speaks with another person to "ameliorate" any "problems or disorders of behavior, character, development, emotion, personality or relationships by the use of verbal … methods."
Under this law, if Elizabeth had no training, she could provide her services as an unlicensed "life coach." However, because of Elizabeth's qualifications and experience—the very reasons clients want her help—New York bars her from talking. New York cannot constitutionally require a license to talk to people about their feelings, as such a restriction would sweep far too broadly, and it cannot constitutionally prohibit Elizabeth's speech just because she is effective at that type of speech.
"Your First Amendment rights don't vanish simply because a state imposes a licensing requirement," concluded Redfern. "In this country, we rely on people to decide who they want to listen to. We don't rely on the government to decide who gets to speak. Licensing boards across the country are getting that important principle exactly backwards, and it is time for the federal courts to set them straight."