Everyone has drawn a map. Maybe it was on the back of a napkin to help a tourist get around. Or a diagram of your backyard to show a landscaper which trees to cut down. Or even a sketch showing where your contractor is going to put a shed.
In California, that might make you a criminal.
Ryan Crownholm, an Army veteran and entrepreneur in Los Angeles, learned that the hard way. Ryan is the founder of a business called MySitePlan.com. His business is simple: Customers pay him to create informal maps of their property from preexisting information and images. Ryan uses publicly available information from the internet—from computer mapping systems like GIS (Geographic Information System), Google Maps, and other programs with satellite imagery—to make a digital drawing that shows the customer's lot lines and the buildings, driveways, fences, etc. on the property.
Ryan's customers use that drawing—called a "site plan"—for various purposes. Hotels and resorts use it to help guide guests from the lobby to their assigned room. Farmers' markets use it to help show vendors where they should set up shop. And homeowners and contractors use it to show local California building departments where they plan to do various small projects, like building a fence or a shed, or removing a tree or pool, to aid those departments in issuing a permit. MySitePlan.com has created more than 40,000 site plan drawings in its nearly ten years in business. Its reviews are sterling.
But a California regulatory board is now trying to shut MySitePlan.com down. In late 2021, the Board for Professional Engineers, Land Surveyors, and Geologists sent Ryan and MySite.Plan.com a citation. The Board claimed, based only on a review of the website, that Ryan and MySitePlan.com were illegally practicing land surveying without a license. More specifically, the Board claimed that making drawings which "depict the location of property lines, fixed works, and the geographical relationship thereto" required a license. The Board ordered them to stop their business and pay a $1,000 fine.
The Board's position is absurd. If all it takes to be illegally practicing "land surveying" is to "depict" property lines and some features of a property within those lines, anyone who has ever drawn an informal map is a criminal. Even the national organization of state surveyor boards has rejected the Board's claim.
More fundamentally, the Board's position is unconstitutional. The Supreme Court has made clear that the "creation and dissemination of information are speech within the meaning of the First Amendment." And that is all Ryan and MySitePlan.com do: take existing, publicly available information, use it to create new information (in the form of a site plan drawing), and disseminate it to paying customers. Now, with both the First Amendment and IJ by his side, Ryan is fighting back in federal court to save his business and protect the right of all entrepreneurs to provide useful information to the public.
Case Team
Clients
Attorneys
Managing Attorney of the Arizona Office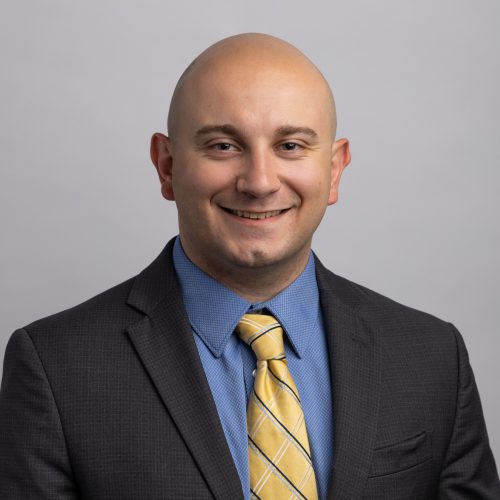 Staff
Communications Project Manager
Paralegal and Office Manager (TX and AZ Office)
Media Resources
Get in touch with the media contact and take a look at the image resources for the case.
Phillip Suderman
Communications Project Manager
[email protected]
Ryan Founds MySitePlan.com After Local Government Officials Teach Ryan How To Make Site Plan Drawings
Ryan has been an entrepreneur his entire adult life. After serving a stint in the Army, he started his first business while in college by using his own pickup truck to offer rubbish removal services. That business succeeded, so he began to expand. To take on larger projects, Ryan eventually obtained California demolition contractor and general engineering contractor licenses. And when California's housing market crashed in the late 2000s, Ryan began to specialize in residential demolition, excavation, and swimming pool removal. Ryan's contracting projects often required a permit from a city or county building department. And these permits often required, and still require, the submission of a "site plan" drawing.
The site plans required for many California permits aren't full-blown surveys. Instead, these site plans only need to show the basic layout of the property for which the permit is being issued. This means a depiction of the property's physical features—buildings, driveways, fences, sometimes vegetation—relative to property lines and an explanation of the proposed changes to the property.
These site plans can be drawn by anyone and California building departments regularly accept site plans from non-surveyors. Indeed, these departments often provide detailed instructions to contractors and homeowners on how to draw a site plan and what information to include. Some local governments specifically advise lay people to use publicly available GIS data as the starting point for their site plan drawing.
That is how local building department officials taught Ryan to draw site plans for his contracting projects. At first, Ryan literally hand-traced images from public GIS or Google Maps depicting a client's property. He later learned to work with Computer-aided Design (CAD) programs, which allowed him to use the same GIS to create electronic site plan drawings. These digital site plans were faster to create and easier to use than hand-drawn plans. This benefitted Ryan and his clients, and the building departments appreciated that Ryan's digital site plans were clearer and more informative than the hand-drawn plans they typically received. Soon, other contractors began asking Ryan to create digital site plan drawings for their projects. That led Ryan to found MySitePlan.com in 2013.
For close to a decade, MySitePlan.com thrived. It provided site plan drawings to satisfied customers all over the world because it could create drawings in virtually any English-speaking jurisdiction with publicly available GIS data. MySitePlan.com's drawings continue to be accepted by building departments in California and elsewhere. And customers regularly use these drawings for any number of additional purposes. During COVID-19 shutdowns, restaurants used them to plan outdoor dining tables on streets and parking lots. Wedding venues and farmers' markets use the drawings to plan layouts and direct guests and booth-renters to the right places. And apartment complexes, hotels and motels have used them as maps to show tenants and guests the location of buildings and directions on to get to their apartment or room.
Although MySitePlan.com became an international business, a large portion of its business—currently about 16%—came from California, befitting its founding there. Ryan spent years building a base of satisfied repeat customers in California. But then, in a most unwelcome Christmas gift, the California Board for Professional Engineers, Land Surveyors, and Geologists, tried to shut Ryan and MySitePlan.com down in December 2021.
The Board Uses An Absurd Definition of "Land Surveying" To Try To Shut Down MySitePlan.com
In December 2021, the Board's Executive Officer—Richard B. Moore, a licensed land surveyor—issued Ryan and MySitePlan.com a Citation Order. Based on a review of the website, the Citation Order claimed that Ryan was illegally practicing "land surveying" without a license. In the Board's view, "preparing site plans which depict the location of property lines, fixed works, and the geographical relationship thereto falls within the definition of land surveying." And because practicing land surveying without a license is a misdemeanor offense, the Board ordered Ryan and MySitePlan.com to stop preparing site plan drawings in California and pay a $1,000 fine.
Neither Ryan nor MySiteplan.com has ever claimed to be a surveyor or do surveys. Indeed, MySitePlan.com is headed by a disclaimer reading, in all capital letters, "THIS IS NOT A LEGAL SURVEY, NOR IS IT INTENDED TO BE OR REPLACE ONE." Another disclaimer warns users that they should "verify with [their] building department that they DO NOT require a certified site plan prepared by a surveyor … " No customer or building department has ever complained to Ryan that they were misled into thinking the company's drawings are surveys.
Nevertheless, the Board insists a surveyor license is required just to make a drawing depicting property lines and the features of a property within those lines. This was news to Ryan, who had been making such site plan drawings since his contractor days. And it is also likely news to the local building departments throughout California which regularly accept site plan drawings from non-surveyors like Ryan, and continue to instruct non-surveyors how to create such drawings. It would also be news to experts in the field.
The Board's Action Threatens Mapping Itself.
At least two decades ago, experts recognized that a "literal interpretation" of land surveying laws would mean that a large amount of spatial information, including GIS, would be illegal in the hands of people other than licensed surveyors. 1 GIS is a computer system that analyzes and displays geographically referenced information (data that is attached to a unique location). GIS is used in public health, urban planning, banking, insurance, supply chain management, resource management (such as forestry and timber), earth sciences, biology, and many other fields. For example, you can find GIS maps showing COVID-19 cases, crime rates and patterns, pollution found in fish, current wildfires, and any number of other topics. The United States Geologic Survey maintains a publicly available GIS, The National Map, which displays various geographically referenced data on a map. And many other governments, especially at the county level, maintain publicly available GIS with greater detail and multiple layers of information. These display parcel property boundaries, ownership and tax records, addresses, building and other coverage, orthoimagery (aerial and/or satellite imagery geometrically corrected to a uniform scale), and other information. And because this publicly available GIS is at a uniform scale, these GIS often allow measurements, of distances, dimensions, and area, to be calculated within the GIS based on polygon drawings.
Beginning in 2006, the National Council of Examiners for Engineering and Surveying (NCEES), the umbrella organization for engineer and surveyor licensing boards in all 50 states, adopted Model Rules to distinguish activities and uses of spatial data that require a surveyor license from those that do not. Ever since, the NCEES Model Rules have recognized that a surveyor license should apply to determining "authoritative location," like for a deed or other legal instrument. But licensing should not be required for "non-authoritative" uses of location information such as "a reference for planning, infrastructure management, and general information." 2
Ryan's drawings are in the "non-authoritative" category. He does not "authoritatively" determine the location of anything or claim to. Instead, his drawings are used as references for planning, such as when building departments use them, or for general information.
But California has not updated its surveying laws to reflect NCEES's commonsense distinction. Indeed, under California's vague, broad, and outdated definition of "surveying," someone who merely "[l]ocates … or retraces" the alignment or elevation of a street or home is practicing land surveying. 3 As is someone who "[l]ocates … or retraces" property lines. 4 So is someone who merely draws a picture depicting "the position of fixed objects." 5 To top it off, anyone who "[d]etermines the information … to be shown on any map" is practicing land surveying. 6 Under a literal reading of California law, then, almost anyone who has ever drawn a map without a surveying license is a criminal.
Obtaining a surveying license from the Board is onerous. For most people (including Ryan), it requires six years of higher education and practical experience, taking and passing four exams, and earning references from four existing licensees. 7 The reason for these burdensome requirements—as NCEES's Model Rules show—is to ensure people who authoritatively determine locations are properly trained to do so. They serve no purpose for someone like Ryan, whose drawings don't authoritatively determine any locations and don't purport to do so.
Legal Claims
Rather than spend heaps of time and money obtaining a credential that doesn't really apply to their drawings, Ryan and MySitePlan.com teamed up with IJ to fight back in federal court against the Board's overreach. They have brought three claims against the Board in the U.S. District Court for the Eastern District of California.
First, the Board's enforcement of the surveying law against Ryan and MySitePlan.com violates their First Amendment right to free speech. The Supreme Court has made clear that "the creation and dissemination of information are speech within the meaning of the First Amendment." 8 That is all Ryan is doing by selling his site plan drawings: taking existing, publicly available information and using it to create and disseminate new information. His drawings are speech fully protected by the First Amendment. And nothing about that changes just because people pay for his speech 9 or because the speech restriction comes in the form of an occupational licensing requirement. 10
Second, California's definition of land surveying is unconstitutionally overbroad and unconstitutionally vague. As to overbreadth, although California's licensing requirement makes sense for people who actually do authoritative surveys, the definition of land surveying also applies to any informal mapmaking, from MySitePlan.com's site plan drawings to a cocktail napkin map to help a lost tourist. That makes the scope of the law unconstitutionally overbroad; it regulates far more speech than the constitution allows. 11 But if the Board claims that definition does not mean what it says—and that a license is not required for all kinds of informal map drawing—then there is no way to tell why MySitePlan.com's site plan drawings are illegal but the thousands of site plan drawings submitted by non-surveyors to California building departments are not. And when a law does not give people fair warning of what is and what is not prohibited, or limit the government's ability to abuse its discretion to say what is and is not illegal, it is void for vagueness. 12
Third, Ryan brings an in-the-alternative claim under the Fourteenth Amendment. At a bare constitutional minimum, regulations must advance some legitimate government interest and not discriminate against similarly situated people. But the board has no such interest in prohibiting Ryan and MySitePlan.com from making non-authoritative site plan drawings, especially when it allows other non-surveyors, like homeowners and contractors, to regularly make identical site plan drawings and submit them to building departments.
The Litigation Team
The case is being litigated by IJ Senior Attorney Paul Avelar and IJ Attorney Mike Greenberg. They are assisted by S. Michael Kernan and Paul Katrinak of the Kernan Law Firm, APC of Beverly Hills, who are serving as local counsel.
Mapping The Landscape For Occupational Speech
Providing information to willing customers is speech that is fully protected by the First Amendment. Yet too often, state regulatory authorities believe they can require a license before entrepreneurs speak. IJ—the national law firm for liberty and the country's leading defender of First Amendment rights for people who speak for a living—fights back against that faulty premise.
IJ has successfully protected a Mississippi startup's First Amendment right to create informal maps in the face of a regulatory board's failed bid to shut the company down for supposedly practicing "land surveying" without a license. In California, IJ successfully defended a horseshoeing teacher's right to talk about horseshoeing to willing students and is now defending the right of two end-of-life doulas to talk about home funerals with willing clients. IJ has also secured court victories all over the country—from the District of Columbia to Charleston to Savannah—for tour guides who want to tell stories without needing the government's permission. And it is now litigating whether a Florida health coach may talk with clients about dietary advice and whether a licensed Virginia therapist may talk with clients in the District of Columbia or New York over Zoom about their feelings. In North Carolina, IJ has two ongoing cases, one challenging a law which says taking photos with a drone should be regulated as "surveying," and another where the state is prohibiting a retired engineer from discussing engineering.